Bee Hotels – where can we put them in Wellow?
Did you know that not all bees live in colonies or build hives in which to live and nest?  Many bee species are solitary – they live alone and build their nests in tiny places like hollow stems and holes in wood.  Though they do not make honey, solitary bees are absolutely necessary as pollinators of crops and flowers.  These bees are usually very docile and peaceful, very reluctant to sting.
Bee hotels are a great way to  attract more of these beneficial pollinators into your garden while helping to give the bees a habitat that will aid in boosting their declining populations.  A bee hotel contains materials that bees like to nest in, like wood drilled with holes, hollow bamboo stalks, and other materials that mimic the bees' natural nesting areas.  A bee hotel can contain a huge variety of materials or just a few, and can be large and elaborate or small and simple.  Size really doesn't matter, since each bee really only needs one hole in which to nest.
Good advice on making bee hotels here
Smaller, easy ones …
Larger, retro ..
See source, with good advice on the materials needed, and about specific bees  (translated)
One for the car park??
Larger habitats like this one from the Metropolitan Field Guide can include areas for other small creatures like butterflies, amphibians, and ladybugs.  Check out the downloadable PDF from the Cheshire Wildlife Trust on how to build this habitat.
This gorgeous display from Amy Curtis Floristry mixes bee habitat with beautiful succulents. One for your garden?
Or this one, which adds beauty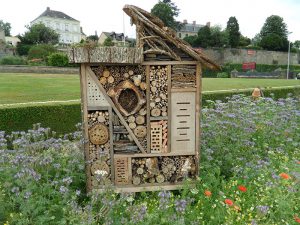 Here's an amazingly gorgeous bee hotel sitting amongst a group of flowers.  This is made with rustic natural materials and the angled lines give it wonderful visual interest.  Via hobby.blogo.nl
Resplendent or what?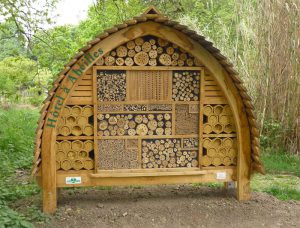 This bee hotel sits in Place des Jardins in Paris, and is absolutely gorgeous!  Image via Moira Dunworth
A bee hotel can be made out of all kinds of materials, as you can see in this one.  This house sits in the kitchen garden of Louis XIV's palace in Versailles.  Image via Landscape Lover
I have cribbed the above from here 27 Incredibly Beautiful Bee Hotels (And Why You Should Build One) so there are many more great bee hotels here.
Google bee hotel for many more!
So you have seen the pictures, you are inspired to make a bee hotel – now read the specifics here.
Come along in April 2018 (date to be confirmed) to build a community bee hotel. ALSO put one or more in your own garden.
Please follow and like us: